LOTS going on with the Herald right now. But, I thought I'd wait a while before I blog about that and instead ramble on about the Acclaim. :-p
I've been attacking that lump of rust under the rear off-side light recently (well, about a week ago!). It's rotten through and I'd been gearing myself up to repair it with grand ideas of creating new panels. So, I gave it a go. It's bloody hard work!
The rust is rather bad and in a horrible spot. In fact, slightly worse than I expected. I whipped the rear bumper off and thankfully all the bolts were easy to undo. Some even had their factory blue finish!
It doesn't look too bad here.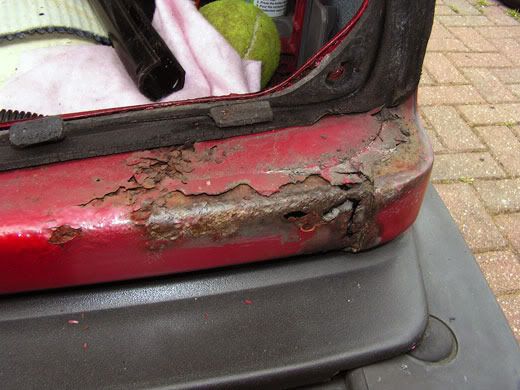 But then I had a bit of a scrape and poke.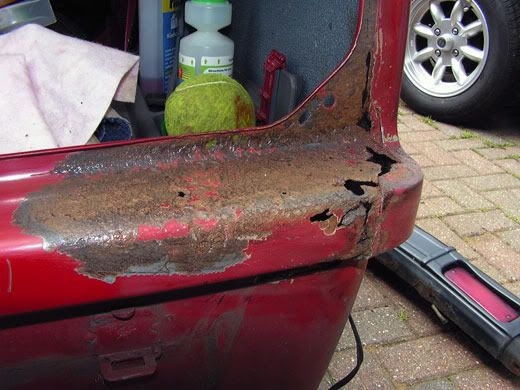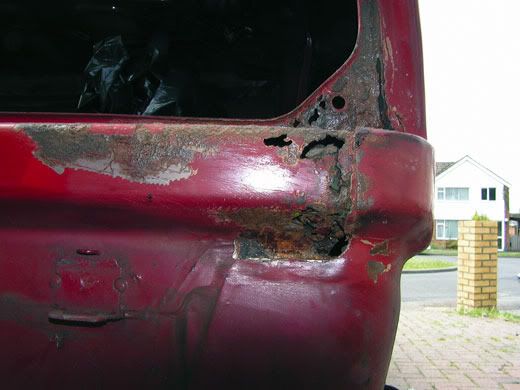 It was time for a bit of thinking! So I whacked on some Bilt Hamber and left it bumperless for a couple of days. Check out this lovely blue colour! It dries black and last ages. I had some on my rain channels on the A-post of the Herald for a year and it provided a perfect bit of protection with no issues.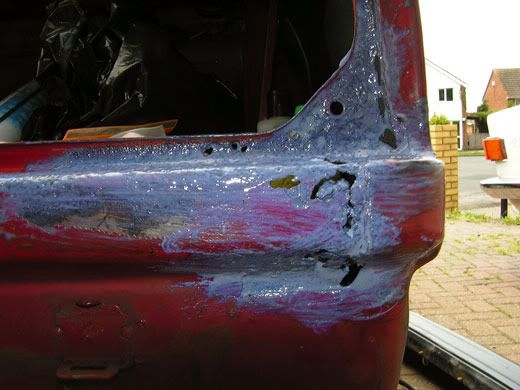 I decided to try and replace it all in one piece, using a crease in the metal to simulate the join in the seam located there. It was all going well until I tried to shape one of the edges and the crease snapped. Better now than later! It also means I've got to do it in at least two pieces, maybe three. I've done some more poking and I might be able to use the very edge panel, the one with the curve. I'll have to wait and see. It's rusty on the inside but the metal doesn't seem to have thinned at all. It'll make my life easier if it turns out to be ok.
Here's the panel I've been shaping, before it snapped. It' not 100%. I'm at a stage where it needs trimming and I want to tack it on and carry on shaping it afterwards as I go. But, I'm happy with how it's coming along. I had to stop at this point as I had no access to the workmate so couldn't get the grinder out. Plus I don't actually have any paint for the car yet… I'm off to get some colour-matched stuff tomorrow.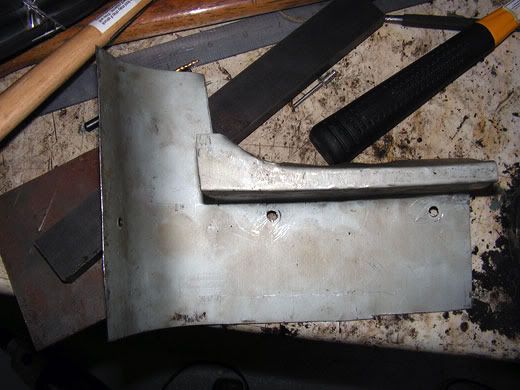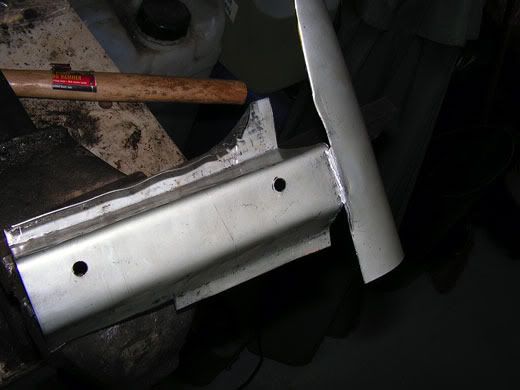 So, as it stands. I'm got a bit which is 70% there ready to go on. I might have to shape some more metal, I'll have to wait and see. I need to get some paint. And the car has no rear bumper. It actually looks better like that!
Oh, I also tarted up the inside of the bumper whilst I was at it. It had rather a lot of rust.
The Herald is waiting for it's engine and gearbox swap, I just need a propshaft. Plus it got another new bit bought for it today. It'll probably be looking slightly different soon!