Long time no post. How on Earth has it been so long? I'm sure I've done stuff since last December, but seeing as I can't remember what's happened between when I woke three hours ago and now there's not much hope in me remembering! Perhaps this blend of Columbian, Costa Rican and Kenyan beans I'm supping on will bang something back into my head.
Private life has been a touch hectic at times. Photography has certainly taken over a larger portion of my life and I'm now out almost every weekend with a camera. It's been an interesting time meeting interesting people. Not that Triumphist aren't good and great, but their fingernails tend to be a little grimy and it's pleasant to be around people who smell nice. Like apples and stuff and not EP90. I've certainly made a conscious effort to get away with the camera. In February I went cottaging on a Scottish island for a week and March was spent relaxing in Amsterdam. April saw me attempt model shooting with a camera for the first time, May presented a visit to the Isle of White. I could have gone to Nice at some point but the cost was silly so instead I'm going to Poland in August and there's a small travelling thingy happening in September…
With regards to Trumping, the saloon is still waiting for me to start work on it. May was the plan, the plan changed. The same goes for the Herald engine. The work contract has changed so far more hours are spent getting paid. That's nice in terms of being able to afford to do things, but not in finding time to do stuff. I even worked last Saturday! Working, on a Saturday!!!
The Herald hasn't been fully ignored though. Another engine mount died a great death so was replaced with something a bit beefier, a bit stronger, a bit more manly, a bit bloody stupid.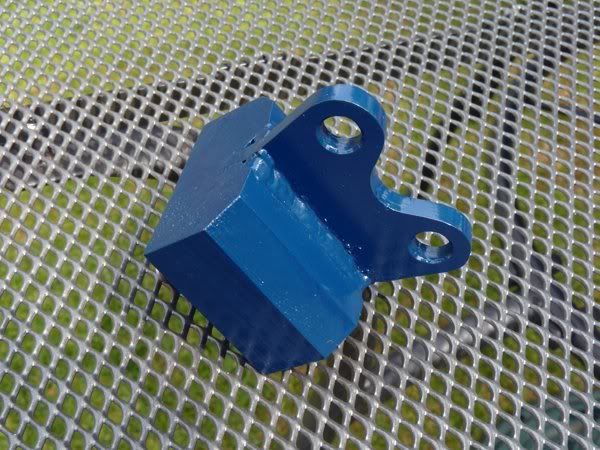 It's not as uncomfortable as you'd expect. Sure, the vibrations rattle your fillings and you get out of the car buzzing like you've just consumed twelve espressos. But, that's a good thing! A wheel bearing also showed itself to be a little unwell. When I took it off the car two of the rollers fell out…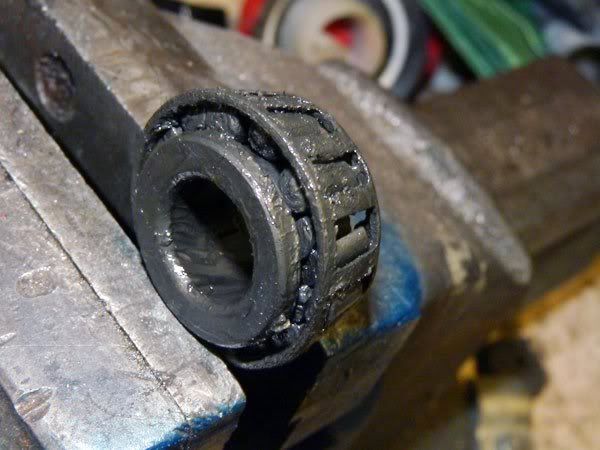 And then… and then… *giddy and overly-camp squeals of excitement* I found that the bottom of the o/s wing was shagged, woohoo!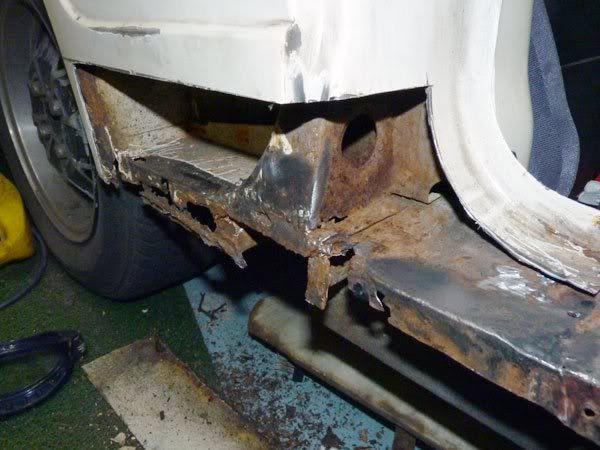 As I type this and contemplate brewing some more coffee the car is sitting there for me to weld in the new plates I've made. I've got about three hours to get some done, then it's out to look at a Freelander for someone and then tomorrow I'm out doing some more photography. Like a said, busy. I've also got to get some new brake pads so I'm going to hunt around for somewhere which sells 1155's this time. After that I'll start stripping down to small-crank engine and make a start on the fibreglass front end.
Now, back to that photography type stuff. I caved into some badgering this year and finally made my way off to the Isle of White for their camping weekend. The true and honest verdict of the entire weekend can only be – epic. I jumped into the *ahem* Acclaim and made my way down the M1, tagged onto the back of Ash's Herald stuffed full of family at junction eight and we made our way to Southampton. When there and trying to find excuses for why it was a good idea to get up so early Peter and Goody arrived. A bit of a happy accident on my part, one which turned out to be rather excellent. They all know this random lady called Carol on the Island and we all made our way to her house for breakfast. I felt rather out of place eating the food of someone I'd never met in their home but Carols hospitality is second to none and I soon felt at ease. Certain aspects of the weekend are sketchy in my head, the evenings are spent with a glass in your hand you see, but from what I can remember it was brilliant. Each day you all go out to a location, park up and enjoy where ever it is (a castle and a water mill this year) and then leave as and when you like. No pressure, no commitments. It was good to spend time relaxing with Mr Chinn, Carl "I never knew you were Saudi" Shakespeare, Cookie, Daren, Craig, Bodders, the people who asked me to take their "readers wives" photo, etc. The list is large. I also managed to waddle off at times and get some snaps on my own. If you can ever make it, then go. I strongly recommend it. Just, don't eat the suspect bacon… I'll post some photos at the end of this LONG blog. Not of the bacon or its consequences, mind. I'm still shocked Carl "do you want to buy some oil, I have lots" Shakespeare believed me when I said I was a vegetarian.
I also can't forget the Marque Day at Duxford. A cracking weekend as Bob King, Tony Pullis and I were there on the Saturday to mark out the area and could spend the day wandering around the exhibits if we chose. It's a shame that the air displays were cancelled due to low cloud but we still saw over 300 cars. I can't remember the exact number, 305 I think we counted. Well, I say we but it was most certainly Tony doing the counting! I spent my time trying to not get run over by Club Triumph members – Ellis, Floyd, etc, I'm think of you here! I expect there to be a full write-up and some shots in the magazine, but here's one to give you an idea of how busy it was;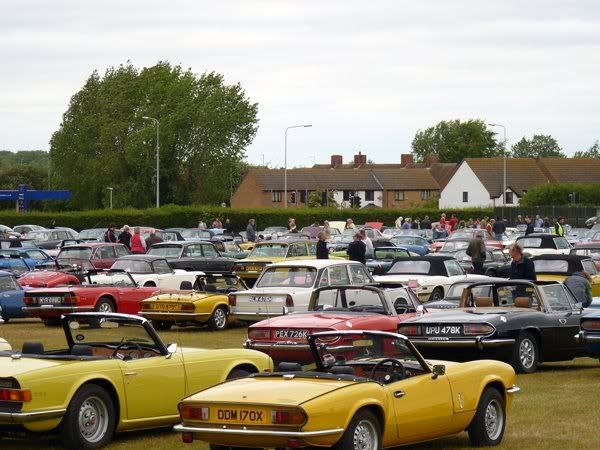 And now some of those IoW snaps…