The MOT ran out on the 15th October and the other week was the only time I could get it in. Slightly nervous from having no brakes and not checking the car over since I bought it I decided to give it a bloody good service (engine oil, gearbox oil, filters, timing belt, etc.) and the once over before putting it through the test.
The fluids and everything were dead easy. The gearbox was a bit of a pig to fill up due to the filler location which required buying a mahoosively long bendy funnel. It's only done 42k miles and was pretty much due it's first change. You're meant to do them after 15k miles then after the next 40k. I had no idea if or when it had been changed – just like the engine oil – and it had started to crunch loudly when in park or neutral. Thankfully that noise has now gone since the change. Also, I've used Dexron III. You can't find Dexron II for love nor money and I have to say it's made gear changes ultra smooth. You feel the revs drop but no jolt now. Although that could be down to its fresh oil as much as the using a different type.
When under the car I spotted a torn CV boot. This meant removing the driveshaft. Slightly daunting for someone who has never done such a thing before but it turned out to be simple. Although I couldn't do it strictly by-the-book as the nut on the ball joint would not move. Instead I unbolted the lower suspension arm and roll bar. Some photo's now. All my entries have to have photos and this one will have a fair few…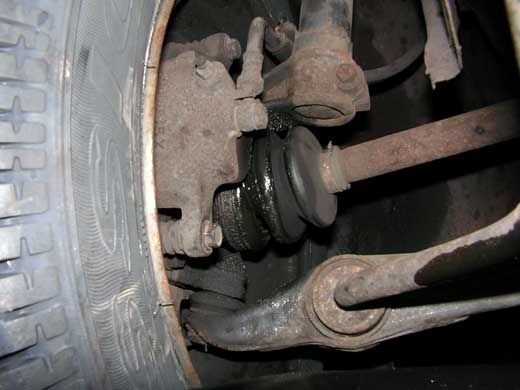 The split boot when on the car.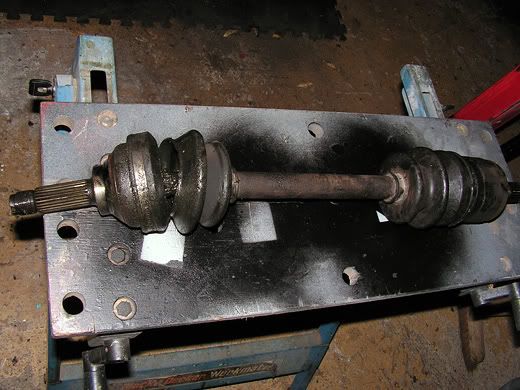 As you can see, it had a slight split…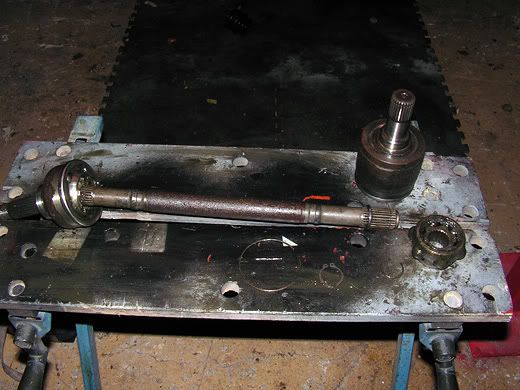 The thing in bits. To repalce the outer boot you have to remove the inner joint. Very easy to do. If the outer joint ever fails you need a whole new unit – so the book says.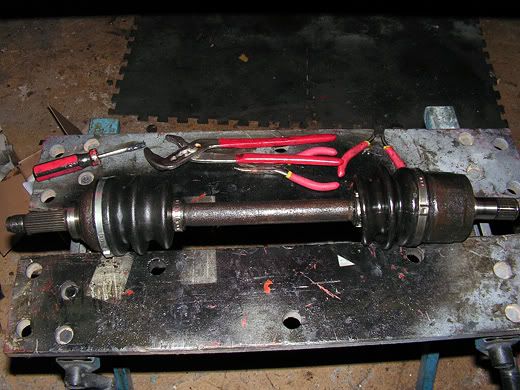 And now the thing put back together. Looks slightly better now…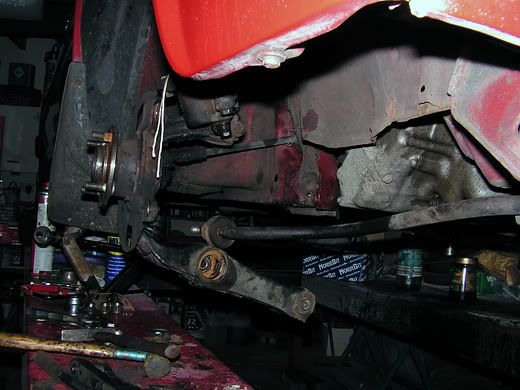 As I said, I had to take a few things apart to get it out.
Now onto the fun part! The brakes. as I said, they weren't at their best and when I took them apart I soon found out why. No need to say anything, I'll let the pictures do the talking.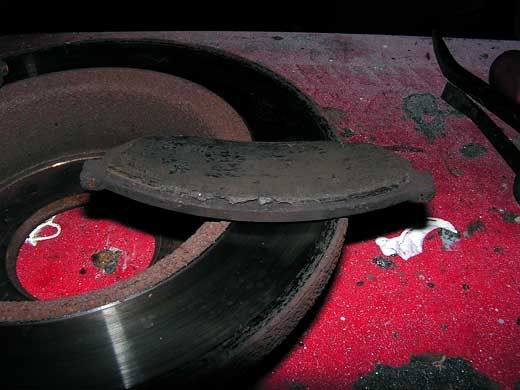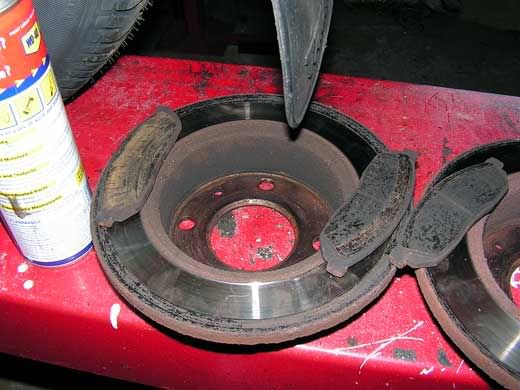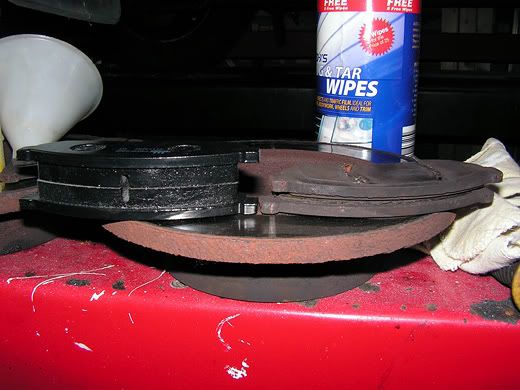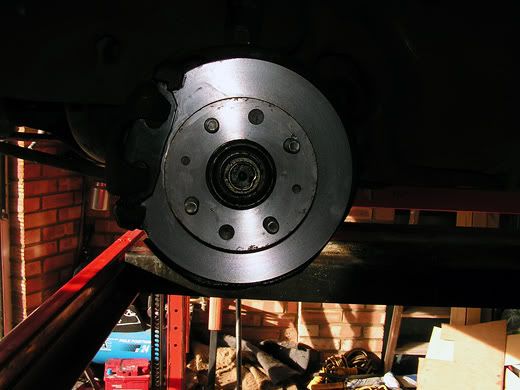 I also replaced the rear shoes. They didn't need doing as such but whilst I was doing the fronts I thought I may as well do the backs and give it all a good clean. I may have gone slightly too far on the cleaning side of things… I even cleaned the springs. Did you know they were painted on one side only?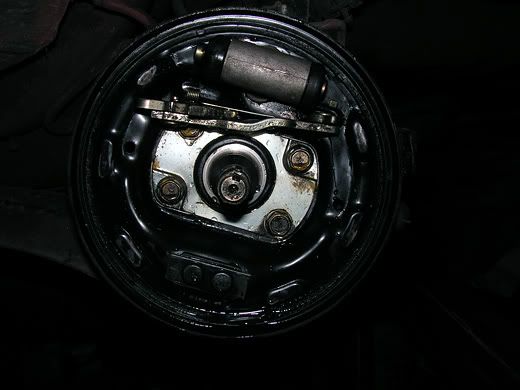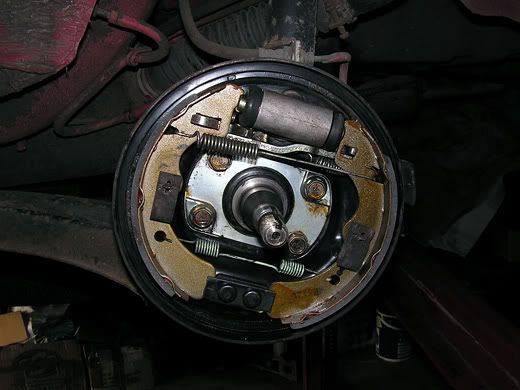 Underneath the car looks solid. It has the odd rust patch where the underseal is showing its age (27 years old) and I'll attack it with a knotted brush on an angle grinder when I can before slapping on lashings on POR-15. Then it was off to the MOT station.
It failed. A headlight was useless and it had the wrong type of fuel filler cap. A quick hunt for Bedford Rascal headlights got me nowhere so I put my unrivalled Googling abilities to use and found a guy selling two Acclaim lights for £10 each. And he was only four miles away! A quick run to his saw me come back with two good headlights and a sump guard! After a three hour chat… it was time to give the MOT station a call. If I could get to his within the hour he'd fit me in. So off I went and got myself a nice clean ticket. The car even sailed through the emissions test which I was slightly worried about. CO2 was at 2.7% (4.5% allowed) and the HC was at 225ppm (1200ppm allowed). I'm not sure how that relates to the real world but I'm impressed.
So, that's it. To get it a pass and give it a general service I did the following;
Timing belt change
Oil change
Oil filter change
ATF fluid change
New CV boot
Four new tyres
New headlight
New petrol filler cap
New discs
New pads
New shoes
New fuel filter