So I went out for a drive. 2000 took a while to fire bit no battery problems. It was covered in a couple of inches of snow so I'm happy with that! I decided to pop along to a place I've not been to for a few months to see if the snow would make for some interesting shots. Not really as it turns out but the driving was fun and I met some horses. Was interesting having big lumps of snow coming up from the bonnet and hitting the window and looking in the rear window at 70mph and viewing a scene which must be similar to leaving a car wash who had been a bit heavy on the bubbles and leaving a long trail of them behind me. I also had some 8 year olds give me a thumbs up and a "cool car mister" as I drove past them. They even stopped throwing snowballs at each other – I half expected them to pelt the car!
Up the track we go. It was as slippery as it looked but the 2000 only lost traction once and plodded happily at 9mph in 2nd gear. It didn't even spin the wheels when pulling away from a stop on the hill – not bad for summer tyres.

No-one else around except for dog walkers, can't think why…

My new friends and some very bad purple fringing.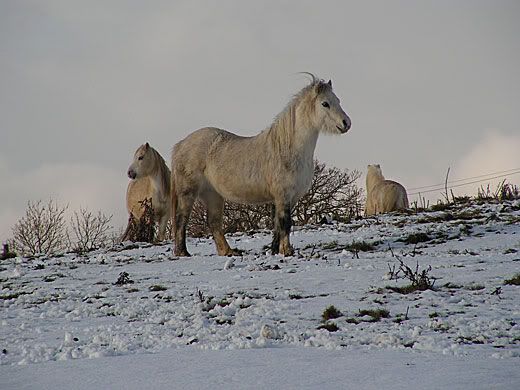 Then they got called in for breakfast.

So I went home to adjust the carbs.