That's the noise a 2lt straight-six makes, right? It's nice.
The 2000 is back on the road and working now. If anyone can remember back far enough I found out I'd broken a front suspension spring on a Monday. In fact, tomorrow it is exactly four weeksa go that it happened. So I asked around on the Club Triumph site to get some more info on what I could do and get. On Wednesday I ordered some 160lb 1/2 lower jobbies and gaiters from a well know and respected supplier and was told they'd be with me Saturday. Brilliant! The next Wednesday I phoned to ask where my springs were… After a couple of calls back and forth I was told that mine were having to be made and would be with me by the end of the following week and sent direct from the manufacturers. I bit my tongue and said ok. Why couldn't they have contacted me the moment they knew there would be a delay? Anyway, I waited. I had no springs. The gaiters did turn up the day after I phoned though… Exactly three weeks after placing my order I called again to ask where my springs were. On the fourth call in an hour and a half I got an answer and was told that I should have had them. My red mist eased off as I was spitting feathers at that point. I got called back and told that my springs were just being powder coated and that they'd be with me Friday. And they were.
I'm still very much not happy to say the least. When I was told it'd take three days to get them I was happy to leave the car outside. But I was not happy to find out they'd be late and that they knew yet didn't contact me. I'm even less happy to have to leave the car out in all the snow we've had (there is still some on the roads and in the gardens here) without being able to move it for over three weeks. I'm told this isn't the normal situation and the be fair, I don't know if there are any personal circumstances involved so will have to give the benefit of the doubt as the parts have arrived and are good quality. And it's also worth to note that the second hand rear springs I bought off Charles Harrison arrived very quickly too! I think they took two or three days.
Changing the springs was easy. Putting the strut back on wasn't. I struggled for over an hour on the passenger side then gave up. It'd been a while since I took it off so suspected that I may be doing something wrong although I couldn't figure out what. So I took the drivers side off with the idea being that I'd be able to see how it came apart and went back together. I was right, there wasn't anything I was doing wrong. It's a dead easy job and everything goes back on within ten minutes. So there's something not quite right on the passenger side. I had to lay on my side in a manky puddle and snow with one had pushing up, one had pulling the hub to the front of the car, my knee pushing it inwards and my third hand pushing the bolt in. I got there in the end. When I caught my breathe and the sky was returning back to its normal colour from blue I noticed there was no light left. I took it for a test drive, all seemed ok.
Bob was dropping the other parts I bought with the car off on Saturday so I decided the fit the rear springs that morning. He arrived just after I'd removed the two rear wheels and gave me a tip. Dead easy job and it was all sorted in an hour or so, including nipping home to grab some other bits and a quick wee.
So the car works again! It's also a touch lower too. A certain auto fetishist says the 160lb springs reduce ride quality and don't improve the handling. I have to say that the car feels a tiny bit more communicative and the ride doesn't feel noticeably different. But I have to keep in mind that my old springs could have been over 40 years old.
Bob told me that my struts came off an S model to allow wider tyres to be fitted. I have noticed a difference between the two on the car. The first photo is of the passenger side and the second of the drivers. What is each one off of and what differences are there? I've got two newer struts to go on which are a matched pair (part of what Bob gave me) and the ones currently on the car will go into the spares supply.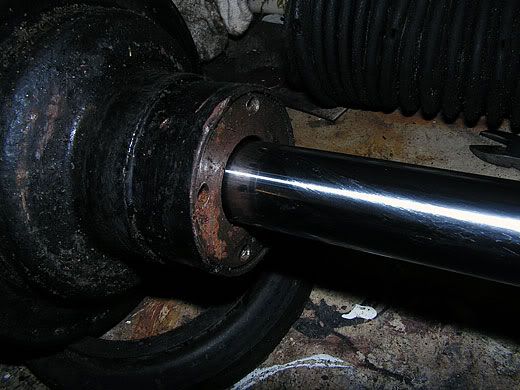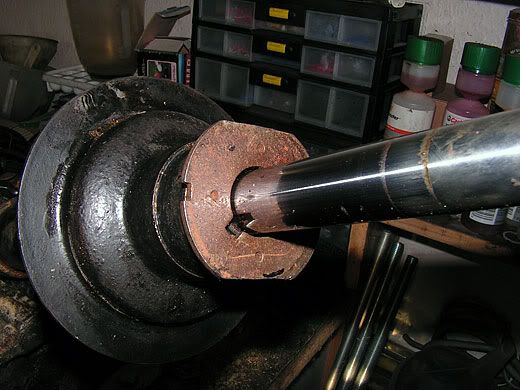 I've also found that the rear wheel on the drivers side has some wobble in it. Bearing? I'll ask more at the pub tomorrow night. Hopefully it's nothing expensive. The grabbing front near-side brake seems to have eased off too, since doing the rear springs.
Sorry for the long entry. But at least it's not filled with loads of photos for once!