Busy day.
I attacked that rotten bit on the rear wing today. I ripped out a part of the wing to have a look. There's not much point in listing where it was religious as a photo is much quicker.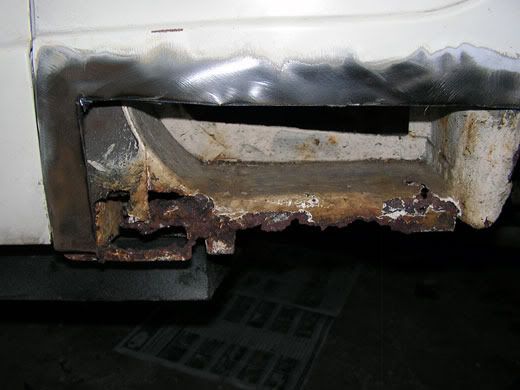 So yeah, pretty holy…
A fair bit of chopping later and some shaping of a donated part and it was time to get the welder out. I'll confess that it looks rather shoddy but is FAR better in person.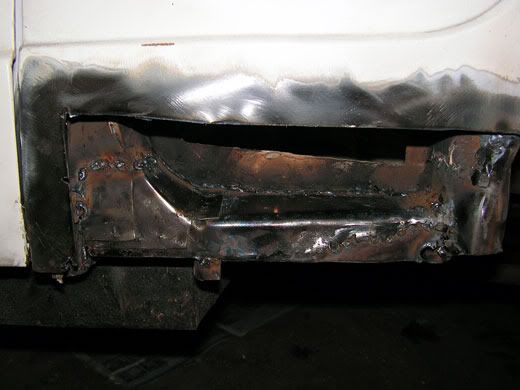 And then afterwards it was time to put the wing back on. The old panel fitted nicely and made things simple. I did have to make up a new lip for it – using what metal was left over from the wing repair from earlier.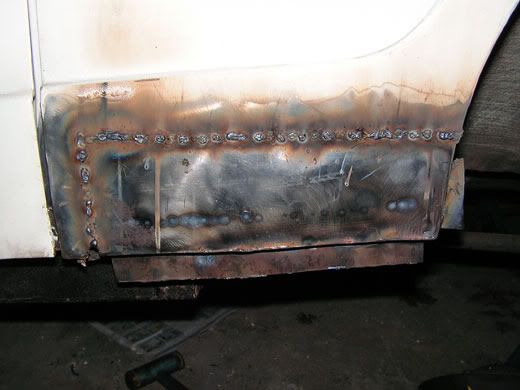 It's all ready for the welds to be ground back tomorrow. I thought it was a bit too late to do it tonight…
I didn't get as much done as I'd hoped. I wanted to get some filler and primer on it today but this has taken a good twelve hours(including a facebook break or two and a ham roll). I know a pro would do it quicker and to a higher standard but just think how much this would all cost! It does look like she'll be going to Stafford in primer, if she makes it.
I also had a slight mishap with the grinder. Those wire brushes fling debris back at you at a fair old pace you know.
Remember kids, always use protection… 😉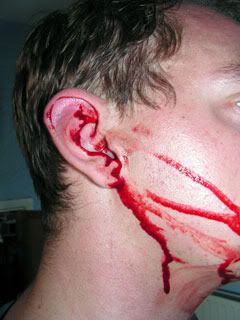 I've had a shower to remove the iron filings from my skin and to make me look a little less like a coal miner. I'm about to nip into the garage to fit the engine valances and radiator. Yes, I'm fully aware it's 22:30 as I type this. And yes, I am tired…
Oh, yeah, and the title of this entry? The part which has filled my rusty hole was from a certain green Herald. The car is obviously as stubborn as her owner and refuses to go away. It's a good thing. 🙂